University For Industry
The Council of Industry Partners of TSU
Tomsk State University was the first to put into practice a new form of cooperation of higher educational institutions with enterprises and companies – the Council of Industry Partners.
The Council consists of TSU's partners who are representatives of regional and Russian industrial enterprises, including the company PJSC KAMAZ, JSC Transneft - Central Siberia, CJSC EleSy, GC Farmkontrakt, JSCAcademician M.F. Reshetnev Information Satellite Systems, and others. TSU already prepares personnel for many of them, organizes training courses, solves technological production problems, and acts as a partner in the creation of innovations. Establishment of the Council of Industry Partners will bring the collaboration to a new level.

New innovative technologies, interesting developments, modern, unique equipment, target training and retraining of staff – these are what the University can offer its industrial partners. They in turn can help in the formation of innovation policy and incorporation in the market process.

"We would like the Council to become an authority of influence on university policy, innovation, research, and education. We do not have competence in how to promote and sell our products, but we can gain new knowledge and bring it to the technology with your help" - says Eduard Galazhinsky, Rector of TSU.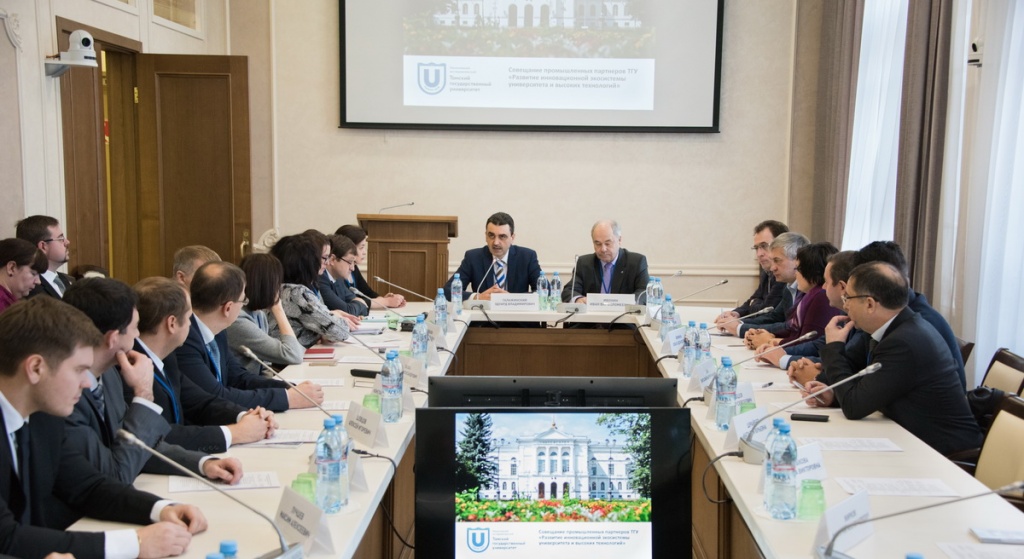 Foundation to develop innovations in the university
7 Centers for Excellence

3 research institutes

12 Centers for Multiple Access

46 research centers

47 small innovative enterprises

64 world-class laboratories, where 127 international scientists and 74 international postgraduate and postdoc students conduct their research